Teachers are among the most hard-working, underappreciated workers in the world. They toil away night and day, preparing and giving lessons, caring for children, and entertaining them for next to no money, and what do they get in return? Well, they get laughed at! And that's exactly what we're going to do now... so join us as we run down the funniest and most embarrassing teacher fails to brighten your day.
Rarely Has Hummus Been So Humorous
We're not sure if this classroom supervisor was wearing a super visor because of the covid pandemic or whether she's a science teacher and wearing a mask for protection in the science lab. It doesn't actually matter because the important part is when she tried eating her mid-day snack of carrots and hummus, she totally forgot she was wearing a mask and ended up smearing tahini all over her transparent protective gear.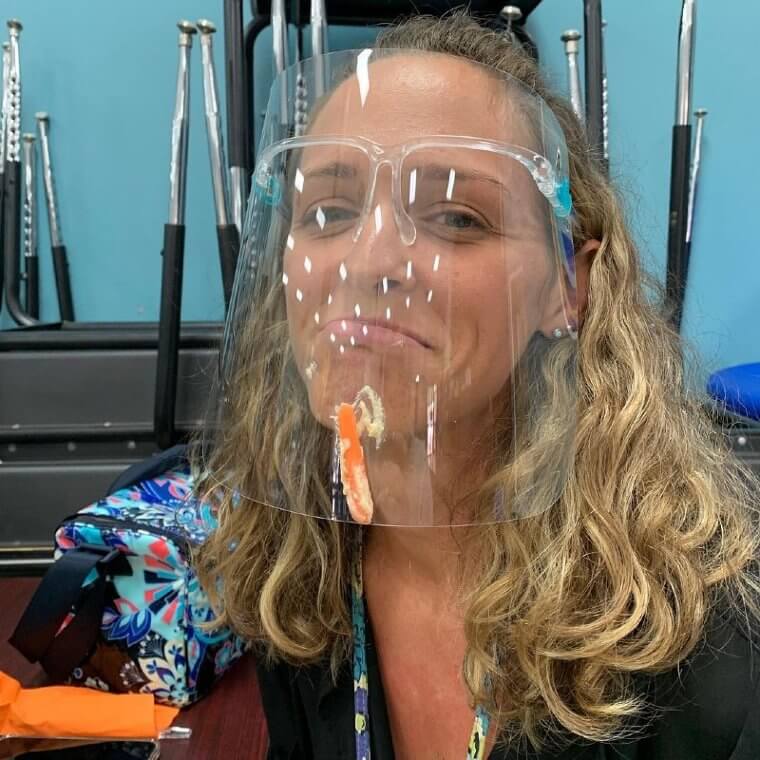 But at least she saw the funny side and had her colleague (or maybe even a student) take a photo so she could share her embarrassing experience all over social media. 
Who Wore It Better?
Many entries on our list today come from teachers who can laugh at themselves for making a faux pas. But this one veers into the realm of the unfair as the poor lady hasn't had the right to reply. It's still hilarious though! Holding up a pink highlighter pen by way of comparison, this schoolkid snapped a pic and immediately posted it to Snapchat asking that age-old fashion question... Who wore it better?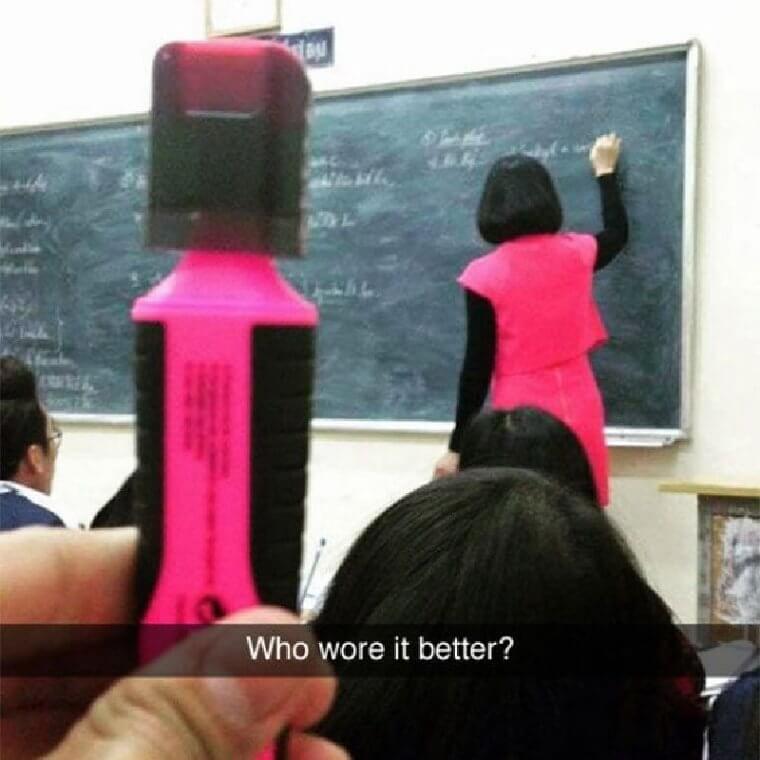 We're left wondering if this was the highlight of this pupil's school year! Geddit? Highlight. We're here all week...
This Lesson Was Brought To You By The Letter
This kindergarten tutor unearthed a great way to teach young kids the alphabet. She would write a "letter of the week" followed by a "word of the week" on a whiteboard. But this particular letter and word of the week spelled out a particularly harsh instruction. She swears (quite literally) that she didn't realize, meaning the crass message was on display for the majority of the week. But we know better.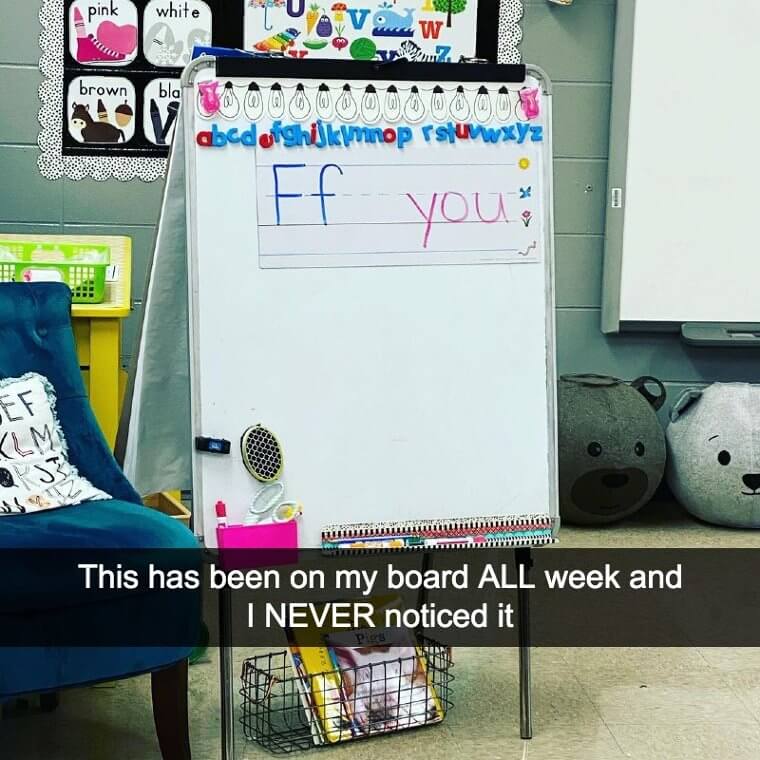 We think she knew exactly what she was doing, and she was sending a subliminal message to those little brats!
When Chemistry Class Takes a Turn
This chemistry teacher thought making fake snow in the lab would make for a cool experiment. In fairness, it was a great idea until he bagged up the fake snow for the kids to take home. But when the kids got home and their parents saw the results, they were convinced their children's teacher was Walter White from Breaking Bad, and he'd turned his chemistry lab into a crystal meth factory!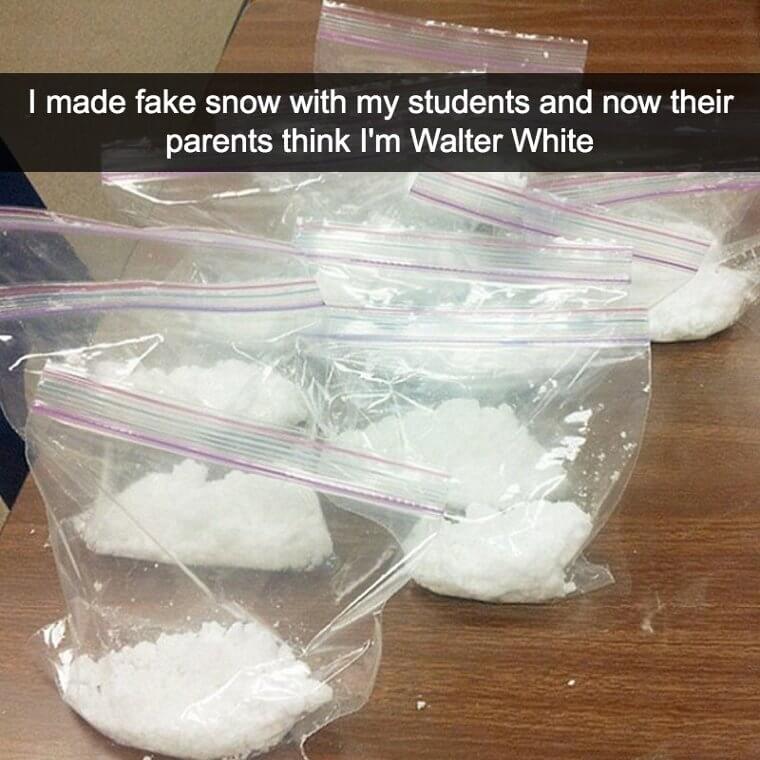 When asked to comment, the high school chemistry tutor said he was making fake snow to pay for his cancer treatment. Or maybe not. It could happen, though!
The Old Ones Are The Best
This unfortunate junior high teacher made a Freudian slip that she instantly regretted. That's okay; we all have slips of the tongue from time to time. But this particular teacher used the word 'orgasm' instead of 'organism.' In front of a class full of 13-year-olds. And she can take it from the thousands of other educators who have made the exact same mistake.. she will never, ever, live it down. Just look at the poor teacher's face!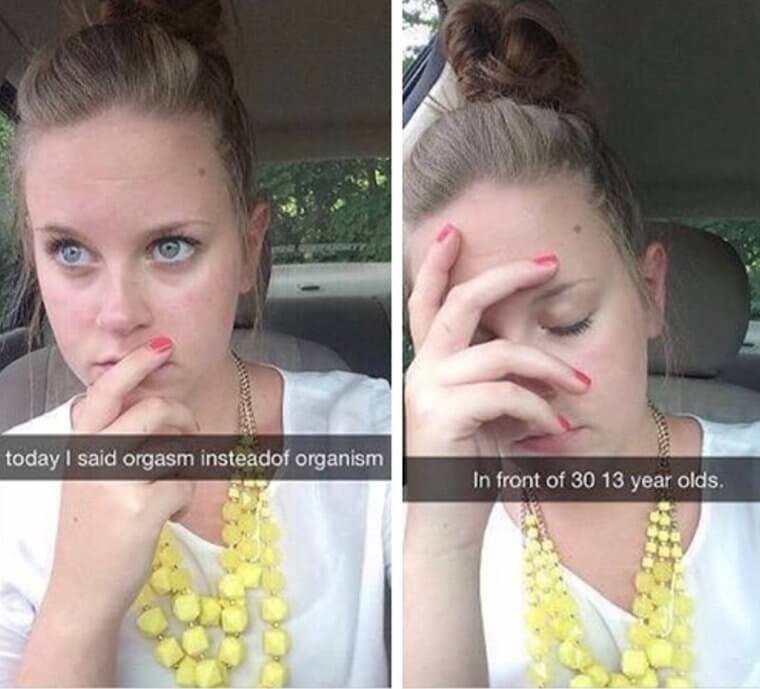 For the rest of her teaching career, she will be forever remembered as the biology teacher who drove down Faux Pas Avenue at 110 miles per hour! 
Call The Cops!
This absent-minded science lecturer took some frozen lamb organs into high school to teach the kids about biology. As you do, you innocently leave your bag of frozen lamb's entrails out to thaw on the side in the laboratory. But then, they got distracted by something and completely forgot about their bag of ovine organs. By the time they returned, the lab looked less like a classroom and more like a crime scene!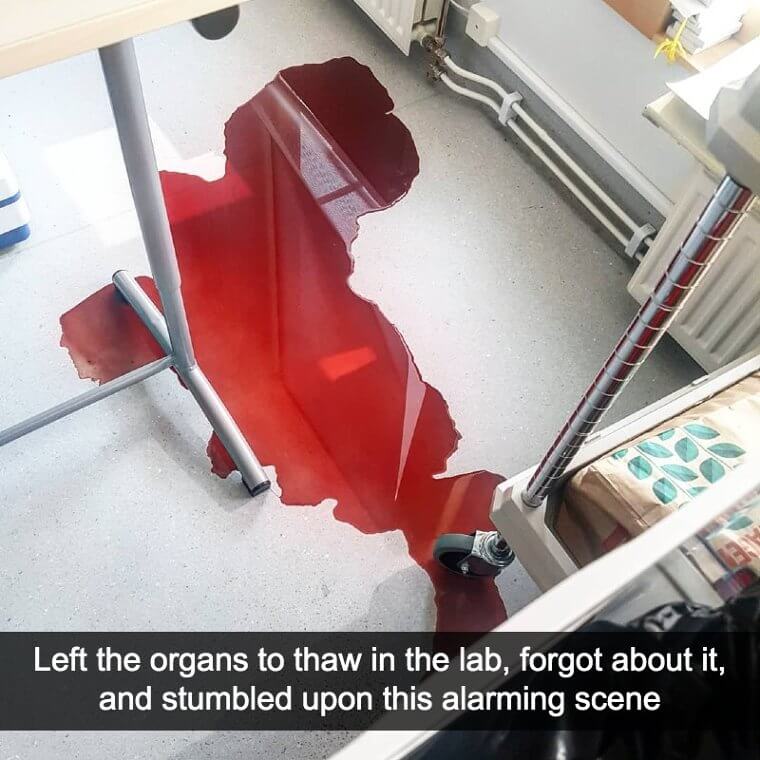 After having a minor heart attack, she realized what she'd done, took a photo, and posted her experience on Instagram. Hopefully, she took to IG after clearing up the mess!
This Teacher Needs To Pay More Attention In Class
Some teachers go the extra mile. And this tutor is so dedicated that she even took the time to create and label handmade boxes for her class supplies. But, after (probably) writing "needs to pay more attention in class" in hundreds of end-of-year reports, she received a dose of her own medicine when her students pointed out that she was the one who needs to pay more attention in class!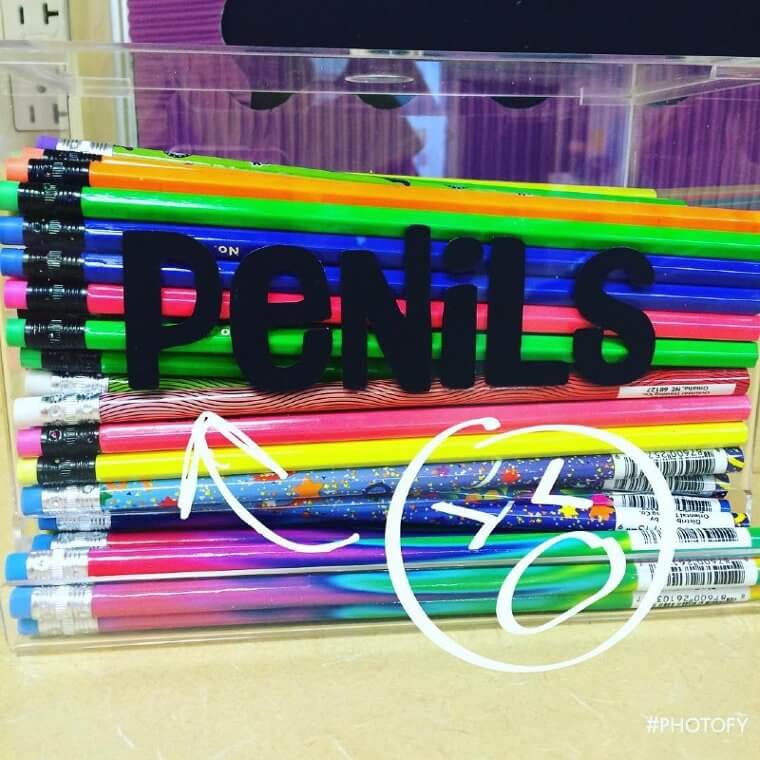 Instead of writing the word PENCILS, she'd written the word PENILS. Hey, at least she also didn't miss out the letter 'L' because it would have been much more embarrassing to explain that to the police and a judge! 
Today's Most Important Lesson Is...
This lecturer conducted a class via Zoom during the pandemic when they spilled candle wax all over their lesson plan. And if you thought this sounds like an excuse to cancel the lesson, here's the photographic proof. It's much better than the 'my dog ate our homework' excuse that they'd heard so many times from students. We're not sure what subject they were teaching, but the most important lesson is clear.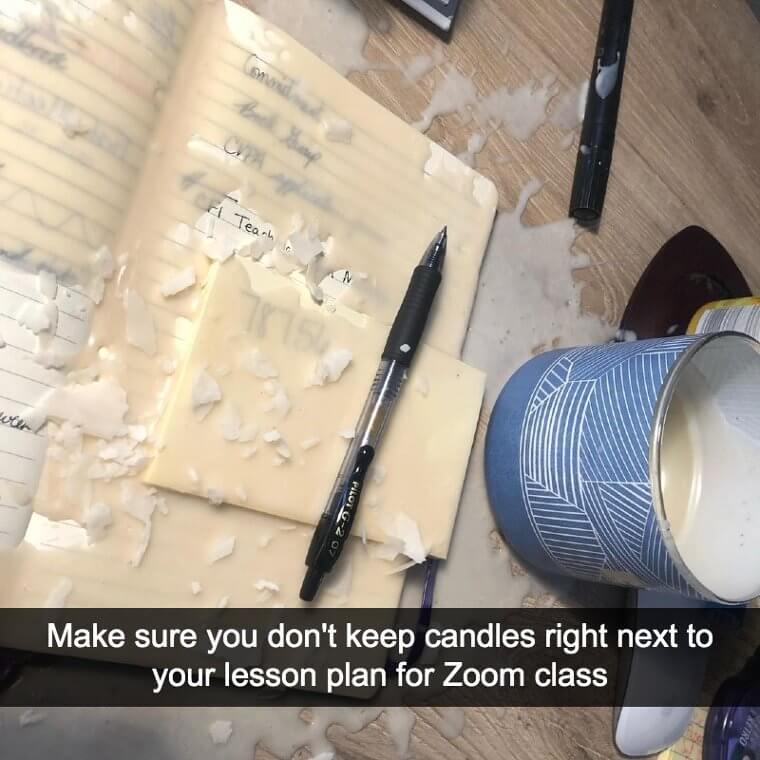 So, what have we learned today, kids? The most important less we've learned today is not to use candles for Zoom lessons. It's not the 1860s! 
Never Drink Coffee When Grading Exams
There are two good reasons for not drinking coffee when grading exams. The first––as this exam grader found out to their chagrin––is so you don't knock your cup of extra hot pumpkin spice latte with twelve shots of espresso, eight pumps of pumpkin sauce, no whipped cream, extra foam, with extra caramel drizzle all over your undergrad's hard work. Because if you do, they might not be headed off to MIT or CalTech after all!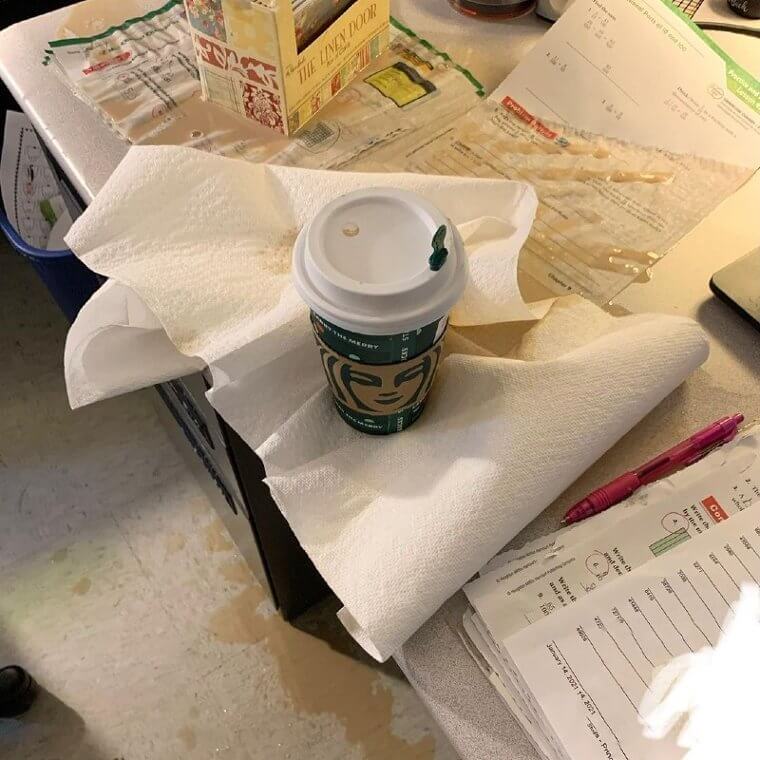 The second reason is so you don't grade a whole stack of exam papers like an amphetamine-fuelled freak, frantically giving everyone an A+ grade. That way, no one gets into CalTech.
When A Game Of Hangman Goes Wrong
Hangman is a great way to familiarize young kids with how to use the alphabet, so this music-loving mentor planned to play the popular word game in their Zoom class. All was going well until the kid guessed the letters A and S, and the teacher was left red-faced when the phrase boldly displayed its ASS! Talk about not thinking things through to their inevitable end.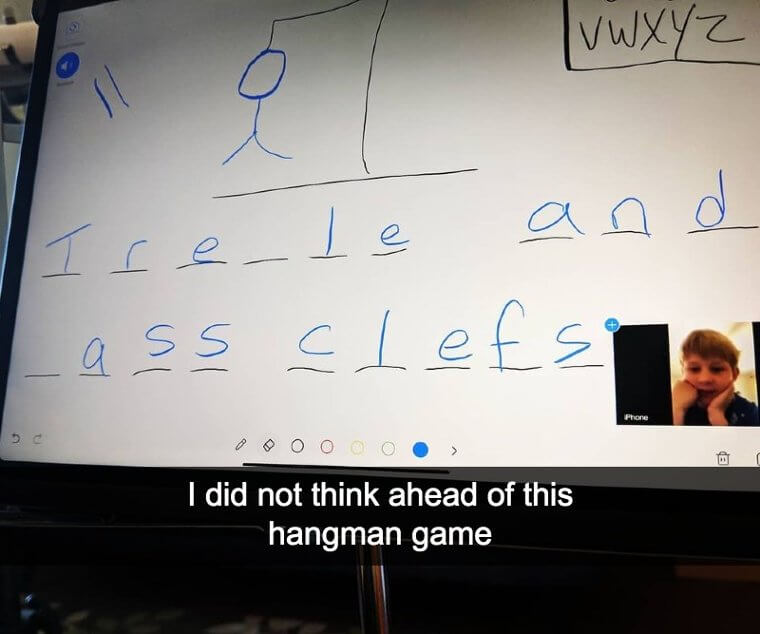 All's well that ends well. The kids soon guessed the letter 'B' to finish the game, then used the word ass at the dinner table for the next month and a half because their teacher said it was okay! 
Bean Bag 2 - Revenge Of The Bean Bag
This reckless teacher had a lifeless green beanbag in his classroom, so he thought he'd spruce it up a little by ordering new filling to give the beanbag a new lease of life. But, in the words of Scottish poet Robert Burns, the best-laid plans of mice and men often go awry. While transferring a million or more of those little polystyrene balls into the beanbag, most of them ended up on the floor!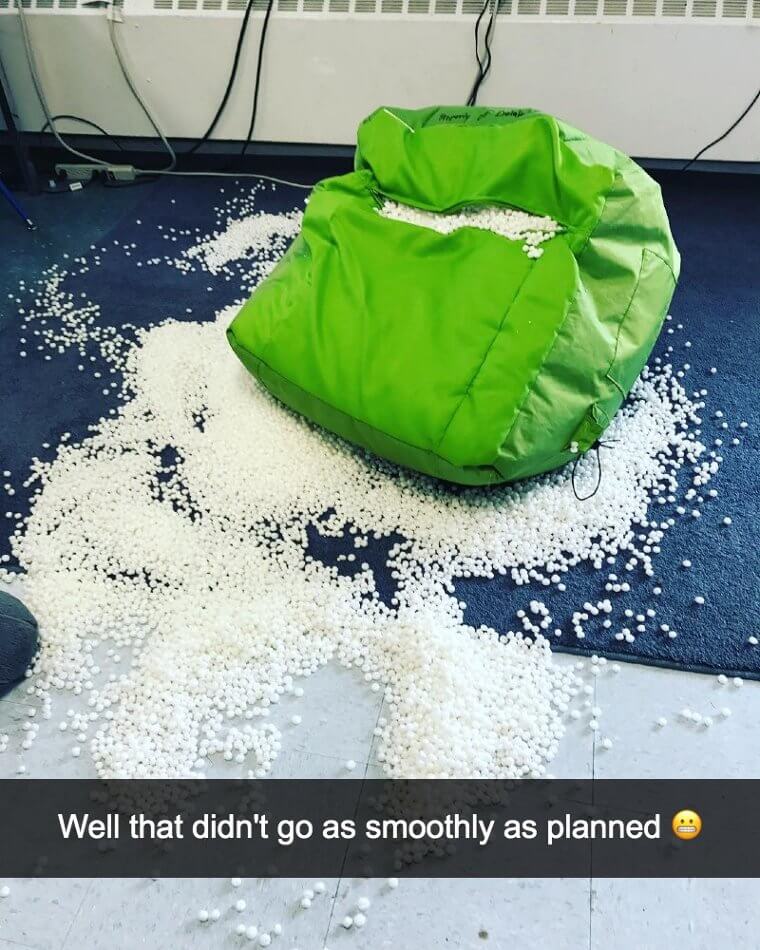 So what's the moral of the story? Well, Rabbie Burns has some more sage advice: If at first, you don't succeed, try, try, try, try, try, try, and try again... times a million!
What An Odd Scholar
This scholar took to Instagram to explain how they would always get their shoes wet in the rain. But all that changed one day when they actually remembered to bring a spare pair of sneakers to change into. However, halfway through the job, they were distracted by a student's question and forgot to swap the other shoe. They were seemingly walking around with odd shoes for quite some time afterward.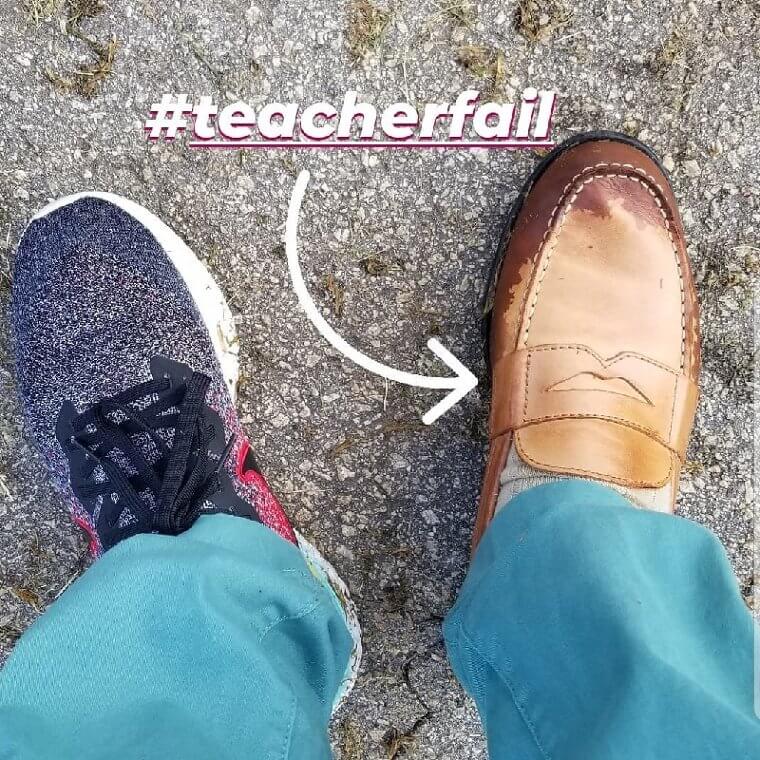 We don't know how long they were walking around in odd shoes, but we hope it was more than half the day! 
Better Rethink Your Fashion Next Time
This unlucky teacher wore her favorite Lilo and Stitch sweatshirt for a remote learning class. And since super cute Lilo and Stitch are kid-friendly, nothing could possibly go wrong, right? Well, guess again! To her shock and horror, as she held up the day's book for the class, she realized her innocent sweatshirt spelled out a rather rude word! And if you thought that was bad, wait... it gets worse! 
And when her image was reversed, that rude word was pluralized, becoming a doubly rude word! 
And We Would Have Got Away With It Too
Virtually every episode of Scooby-Doo ends with the unmasked villain exclaiming "And I'd have got away with it if it weren't for you pesky kids meddling in my treasure!" And the kids in this math class were left saying much the same after a really easy-peasy math homework assignment. The math tutor, you see, had included the answer key on the back of the worksheet, meaning the whole class would have passed with flying colors.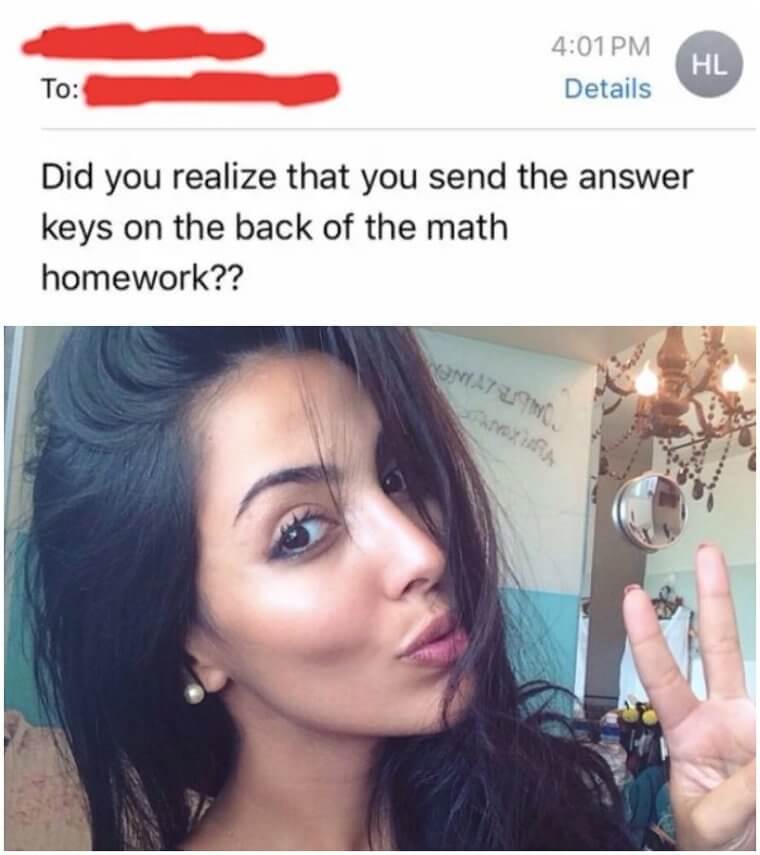 But some goody-two-shoes took to Insta to tell their tutor that they had included the answers. There's always one, isn't there?
Happy Mother's Day - Have A Burnt Rock!
What do you get your mom on Mother's Day? Flowers? Perfume? Chocolates? Well, for a limited time only, we have these very special children's handprints on clay for a special discount price of $19.99. Yes, for under twenty dollars, you too can have your kindergarten-aged child's handprint forever burnt as a reminder that in the next couple of billion years, our exploding sun will engulf the earth in a fiery ball of brimstone.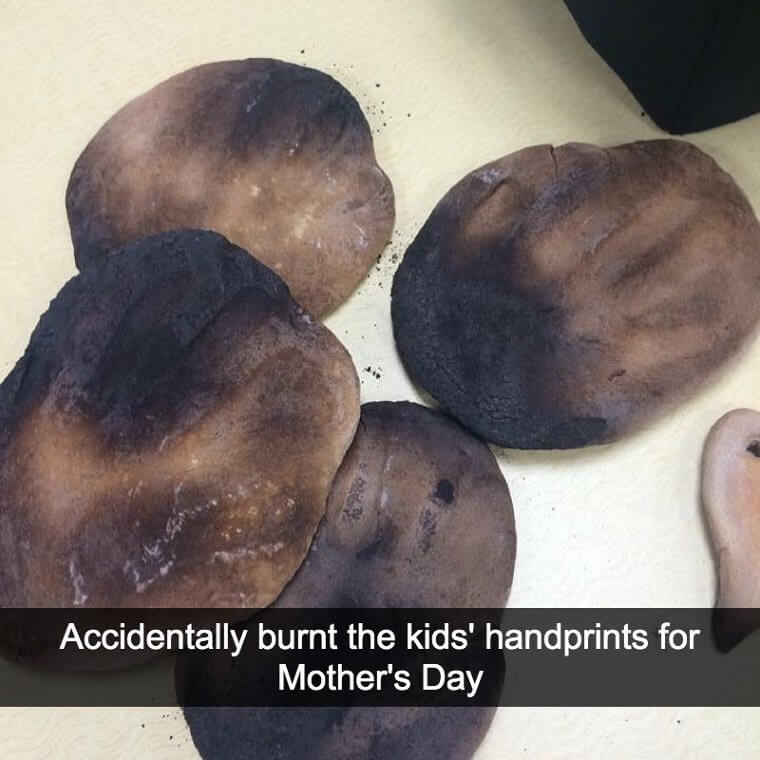 Handprints were a neat idea, but this poor teacher forgot to take them out of the oven. Obviously, there wasn't enough time or dough for a second batch. Happy Mother's Day! 
Merry Christmas, Have Some Reindeer Poop
As if they didn't already have enough on their plates, some classroom assistants go far and above the call of duty. During the holiday season, this dedicated, compassionate Christmas angel bought packs of adorable malty-chocolate Reindeer Poop balls to hand out to the kids in her class. But due to the freezing weather, she'd had the heating turned up to the max in her car, meaning the round chocolate droppings melted in the heat.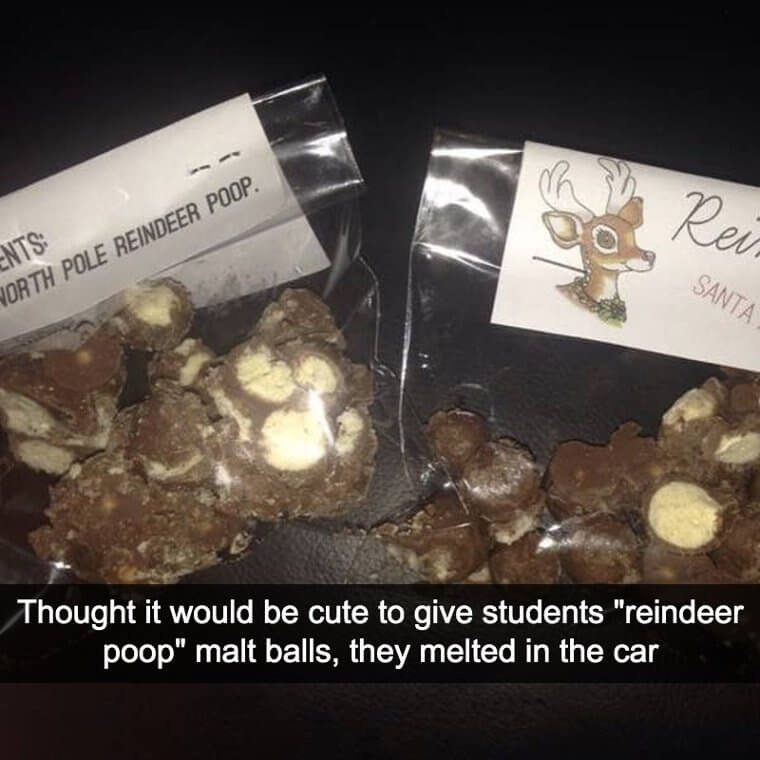 So, instead of Malteser-shaped choc balls, she was left with bags and bags of what looked like real melted reindeer poop. Not that we know what melted reindeer poop looks like... or tastes like! 
What A Way To Start The Week!
This poor, pitiful professor spilled water all over their crotch first thing on a Monday morning. But this being the age of social media, their first thought wasn't to go and dry off under a hand-dryer in the restroom, no. Instead, they took to Instagram to post their awkward experience. Posting on social media seems to be all they did, as there's zero evidence they even tried to dry themselves off!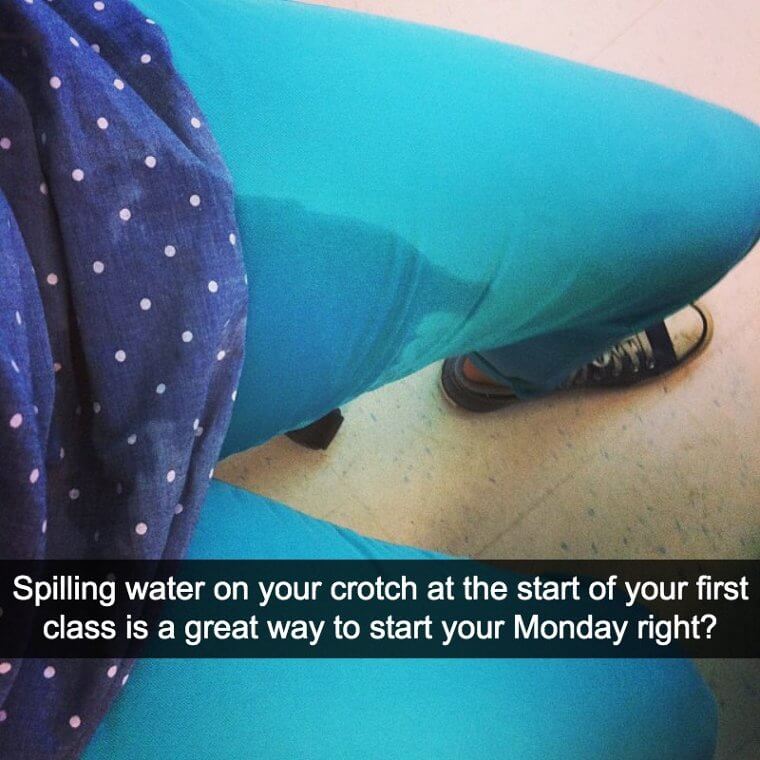 We can only imagine how the kids reacted to this terrible faux pas. Must have been a miserable day for this teacher!
Heart Shaped Balloons
Teachers deserve so much respect for trying to educate, care for, and entertain children. However, every once in a while, their plans have hilarious consequences... for adults. This teacher bought her class some heart-shaped balloons, which was funny on two fronts. Before the balloons were blown up, they resembled male private parts. As if that wasn't bad enough, they looked like pairs of boobs after being inflated! Especially the pink ones.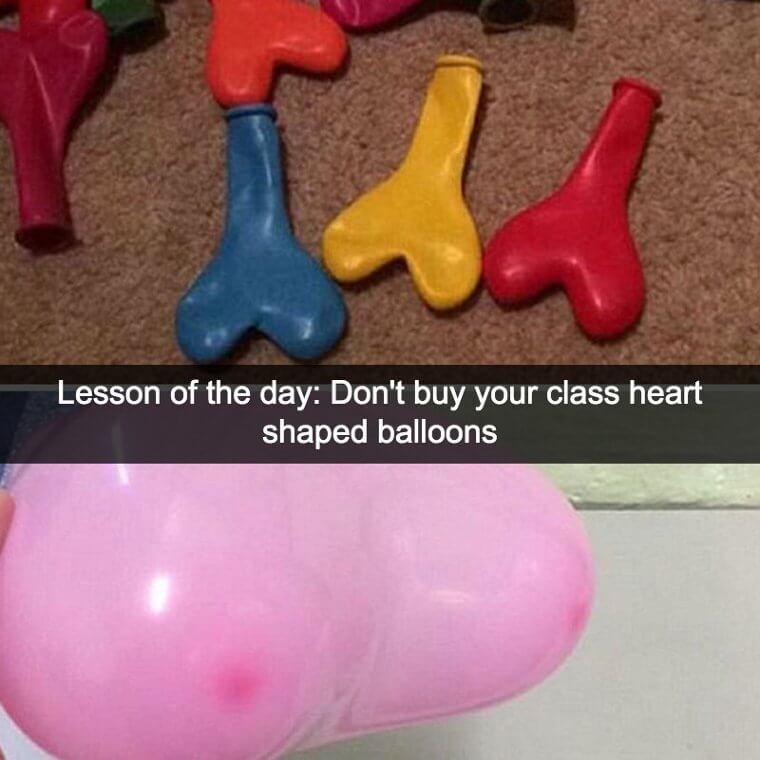 If there are two things that kids find hilarious, it's these two things. They carve them into school desks at every opportunity they can!
Like Stealing Candy From A Baby
In the old days, kids used to leave apples on their teacher's desks to show their gratitude. Nowadays, kids give them donuts. So when one kid gave the head of their class a donut, the overworked and hungry tutor happily gobbled it down like a cop on a stake-out. But later, when the poor, malnourished, and severely underweight child asked for their donut back... well, let's just say Miss Kaleigh had some explaining to do!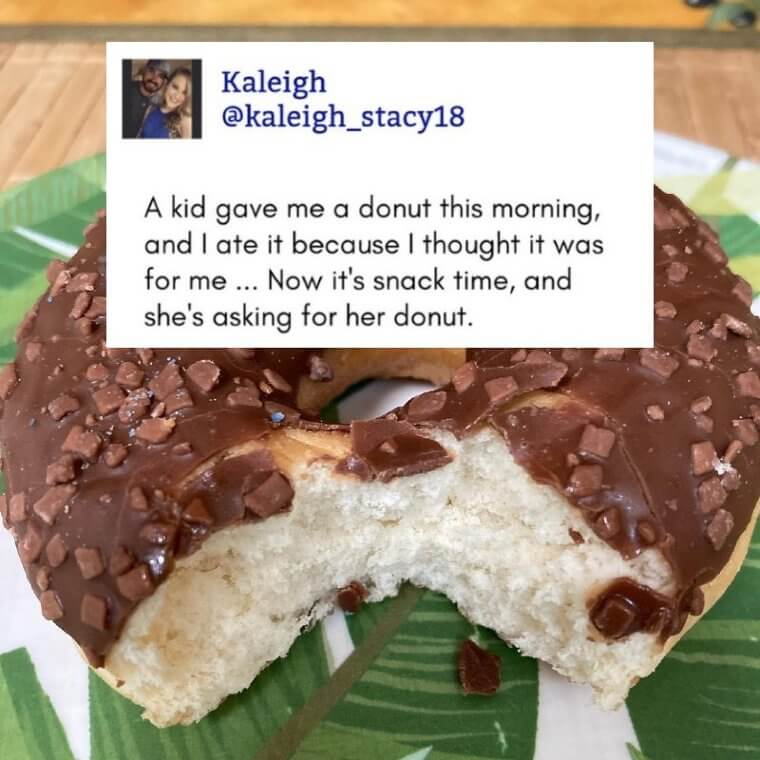 All the kid wanted was for her trusted teacher to look after her donut until snack time. Shame on you, Miss Kaleigh for taking food out of starving children's mouths! 
A Sight For Sore Eyes
Faculty members! Naturally, we all understand that you have to use fun, eye-catching fonts and designs to keep your young student's attention from wandering, but please, please, please check the fonts before sending out your assignments! One short-sighted teacher didn't check their special font before sending out a "Properties of Addition" math assignment, and––for want of a better word––let's just say that they ended up giving their poor pupils the willies!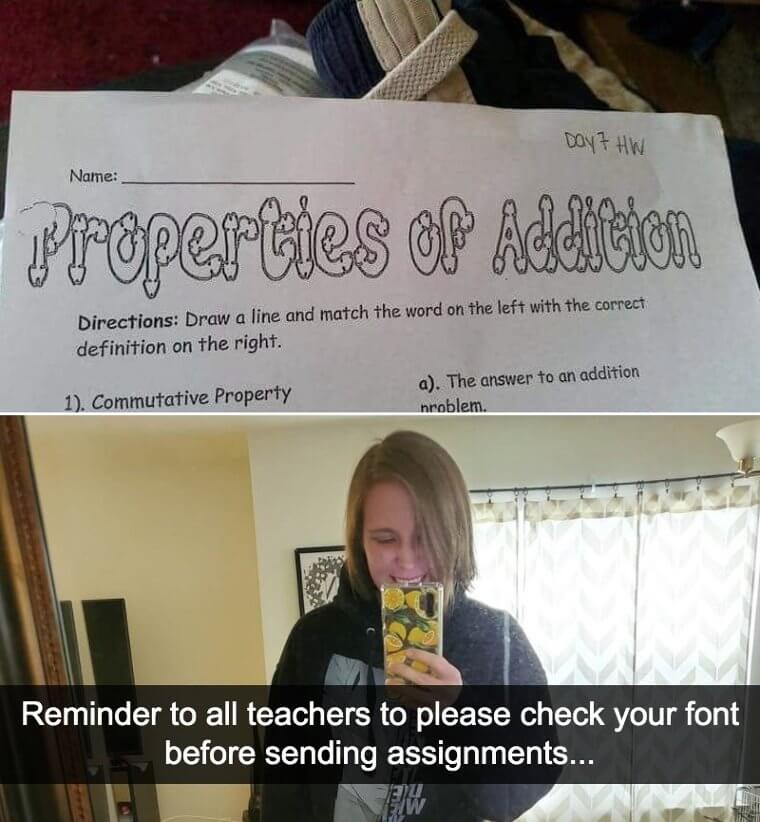 This mom saw the funny side of the teacher's trouser-snake mistake and probably got a good laugh out of it!
Talk About a Misunderstanding
This professor showed up to the first day of class to find that none of his students could be bothered to show up. As a result, the humiliated prof sent out a strongly worded email telling his pupils that if they couldn't be bothered to attend his class, there was a simple answer... they could drop his course. Later, he discovered what his students knew from the get-go––it was meant to be an online class all along!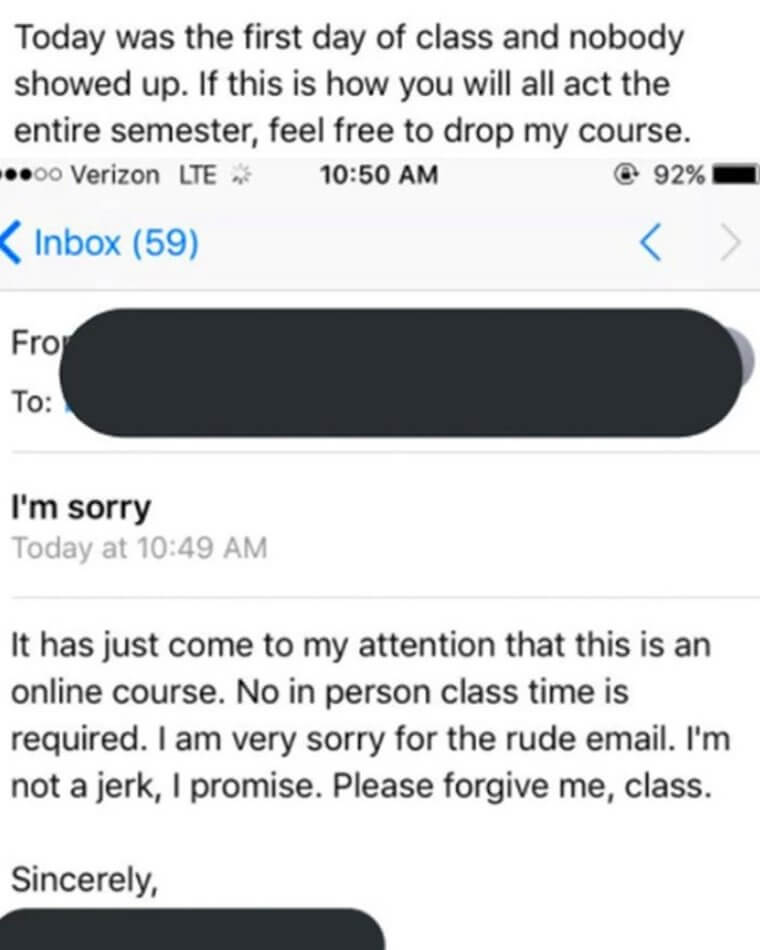 In his defense, after sending out his rude email, he did apologize sincerely and––channeling his inner President Nixon––assured his pupils "I am not a jerk!"
This Lesson Is Brought To You By A Smurf
This teacher made a schoolboy error when she treated her class of younguns to some arts and crafts for Earth Day. Taking the words 'blue planet' a little too literally, she managed to dye everything––including her hands––a lovely turquoise blue color. Judging by the state of her hands, if she also got the paint on her face, then passers-by must have thought they'd just seen a Smurf driving a car!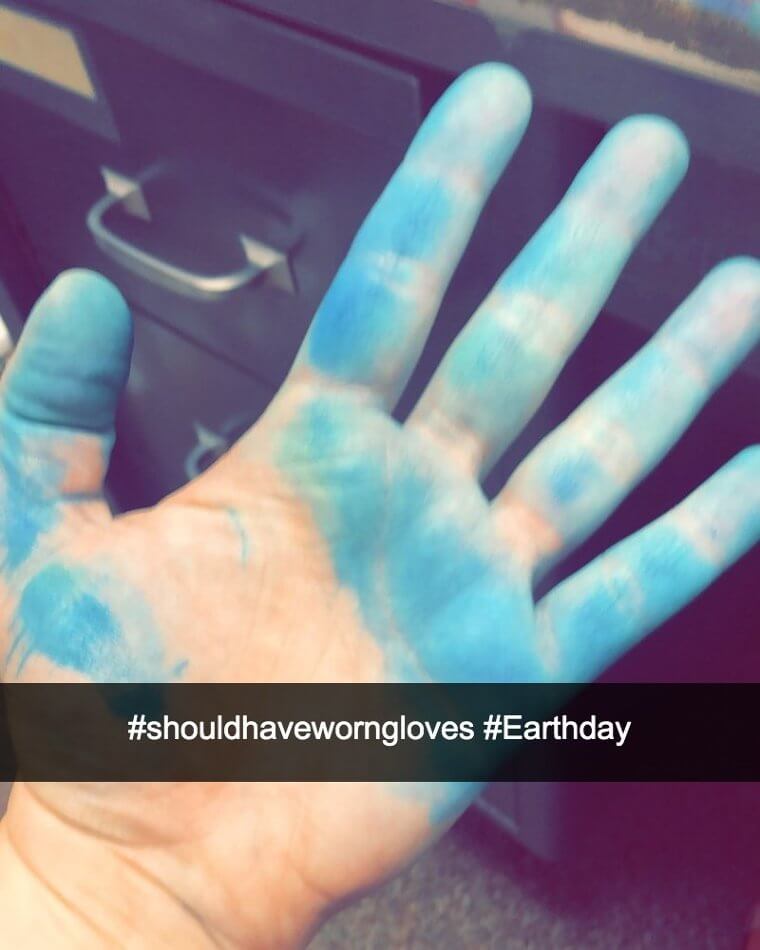 And since the paint hadn't washed off by the time she got in her Smurfmobile to go home, we can safely assume that Earth Day became Earth Days! 
Bonnie & Clyde Sleep With The Fishes
Schoolkids often have a class pet, and sometimes they get to take it home for the weekend and bring it back to class... if they don't end up killing the poor animals. At our school, a hamster was found dead in a pot of glue after getting high its way through the summer vacation! But which little hooligan was responsible for killing off three cold-blooded fish... in cold blood? Dun-dun-durrr!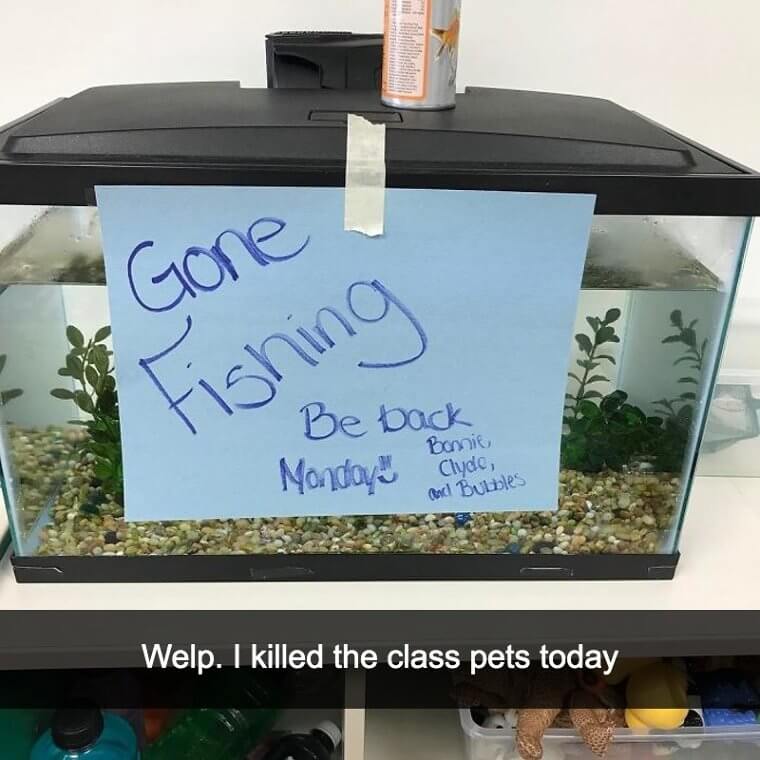 This time it wasn't a pupil. it was their grown-up, responsible, adult teacher... who then made this hilarious sign Hopefully Bonnie, Clyde, and Bubbles had been replaced with similar-looking new fish from the pet store by Monday morning. 
Hello Students!
We really hope that this teacher was trying to make a good impression on their first day with their new students. Because that would make this mishap even funnier. That said, it's pretty amusing whether it was their first or hundredth day. The tutor had obviously planned their sign to read, "Hello Students," but got distracted or ran out of paper three-quarters of the way through making their welcome sign.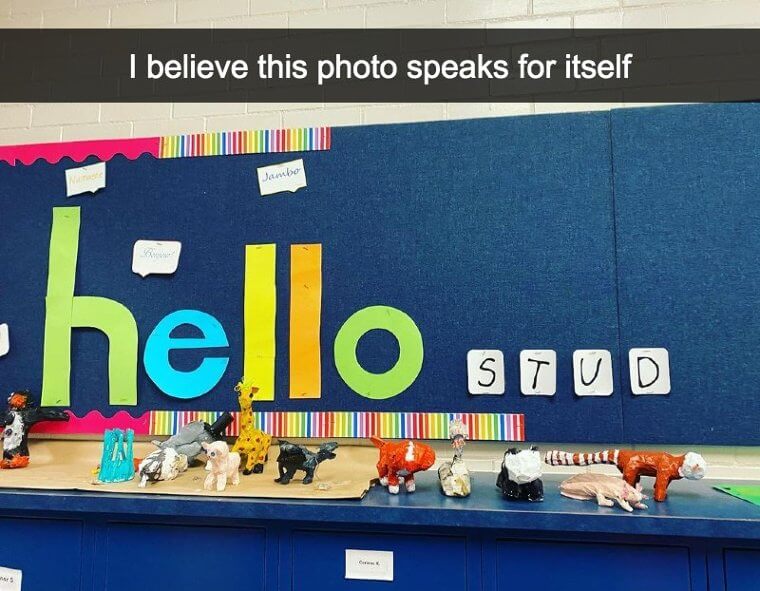 The message ended up sending out another, more unwholesome message to the kids. Unless they're from Texas, and the teacher welcomed a male cow into class. 
Use The Doggy Door
Your first day in front of a class can be as worrying as it is exciting. The secret is to treat your career in education like a stand-up comedian. Win your audience over, and they'll respect you forever. Lose their attention, and they'll make mincemeat outta ya! This comedic teacher arrived on their first day at school to find they had been locked out of their classroom. But don't worry, they quickly found a nifty and ingenious solution...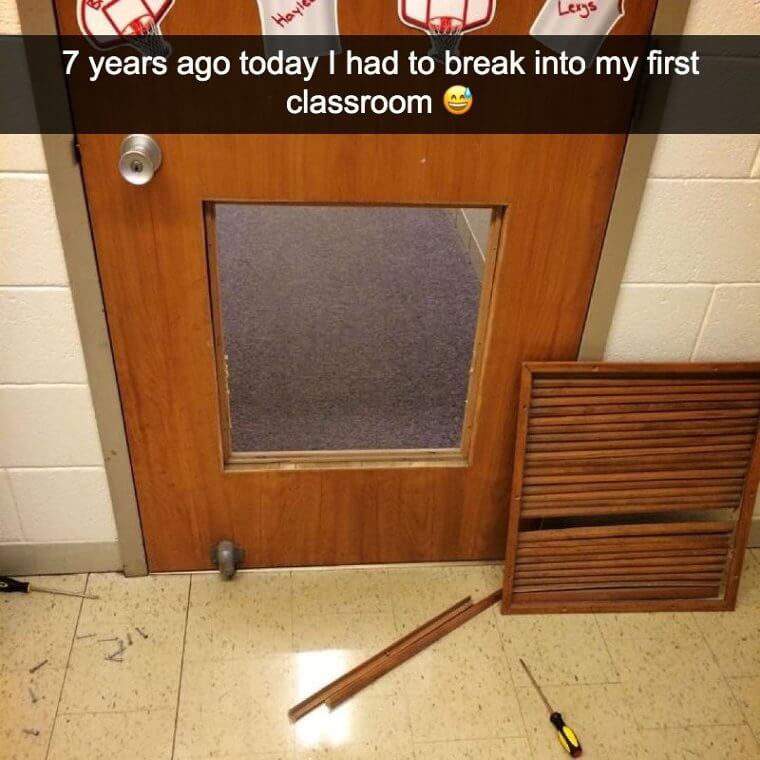 They attacked the door, created a large dog-sized hole, climbed in, and welcomed their students in as if there was nothing wrong. That's one way to create an impression and win your tiny audience over! 
We Didn't Get The Invite, Miss!
What's the most important thing to remember when teaching a class online? Lesson plan? Check. Bathroom trip? Check. Glass of water? Check. Everything was fine and dandy until this online orator sat down and realized she hadn't actually invited any scholars to join her! Either that or she thought she'd gone into James Bond stealth mode because she does look like she's dressed to go on a secret night mission.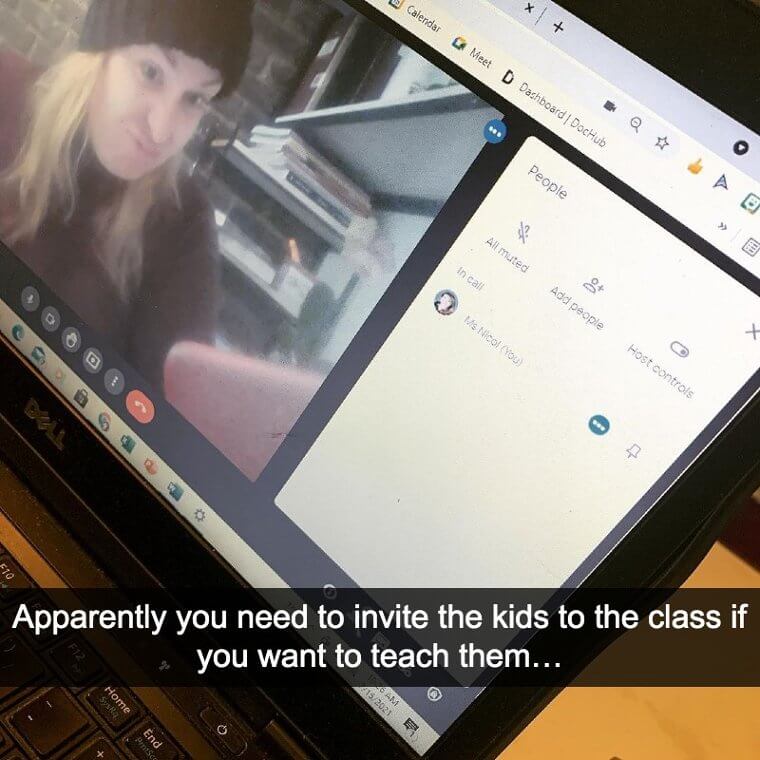 She might have missed class, but she did parachute out of a plane to stop a super-villain from blowing up the world from his volcano hideout. The name's Bond. Jane Bond. 
You Won't Make It Stick
This teacher is blaming their non-sticky brain fart on the fact they were carrying a baby at the time. But don't be too harsh on her, as it's a well-known fact that your brain can turn to mush when pregnant. During a craft lesson, she was slightly bemused as to why nothing was sticking together. Well, it turns out she'd been using sunscreen instead of glue for the entirety of the lesson!
After the failed craft lesson, the ever so slightly embarrassed teacher treated the kids to a mid-morning snack... of coal, pickle, and soil sandwiches! 
The Oldest Excuse In The Book
"The dog ate my homework" is officially the oldest excuse in the book. Lazy philosophy students told Plato this sorry excuse at The School of Athens. A stone tablet was even uncovered in Pompeii dating back to the Vesuvius eruption of AD73, which read "Canis meus Duis congue sem comedit." But the tables were turned when this teacher had to tell his pupils that his dog had eaten their homework!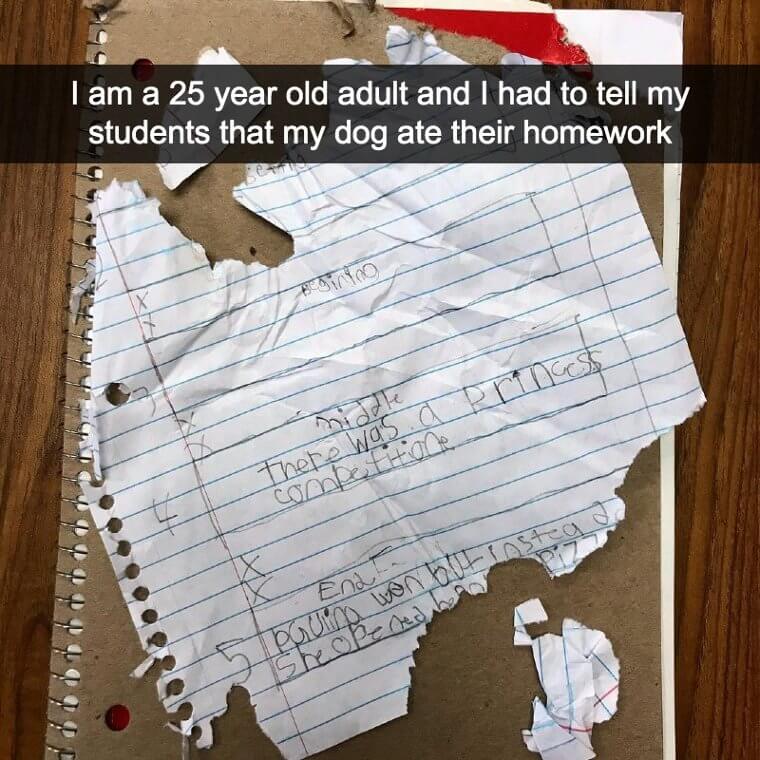 Did you know Socrates was found guilty by a jury of 501 Athenians and forced to drink hemlock after saying his dog ate his philosophy student's homework? True story! 
Pregnancy Brain Strikes Again
Our second case of pregnancy brain now. This heavily pregnant schoolteacher arrived at work one morning and tried to unlock her classroom door. But for some bizarre reason, the key didn't seem to fit the lock. After struggling and scratching her head for a few moments, it dawned on the soon-to-be-mom that she was trying to get into her class by using her car keys. And it gets even funnier!
When her waters broke at school later that day, she tried to unlock her car with the keys to her class! She ended up giving birth in the school car park. Only kidding... it was on the basketball court! 
Lingering Fingers Catch The Word
This artless educator just wanted to teach her kids a great new reading technique. Her words plainly spell out her new strategy for all to see. By lingering your finger on the words you're reading, you don't lose track of where you are. Easy! Well, it would have been easy if her drawing skills were a little better. As a result, it looks as if you should flip the bird to the text you're reading!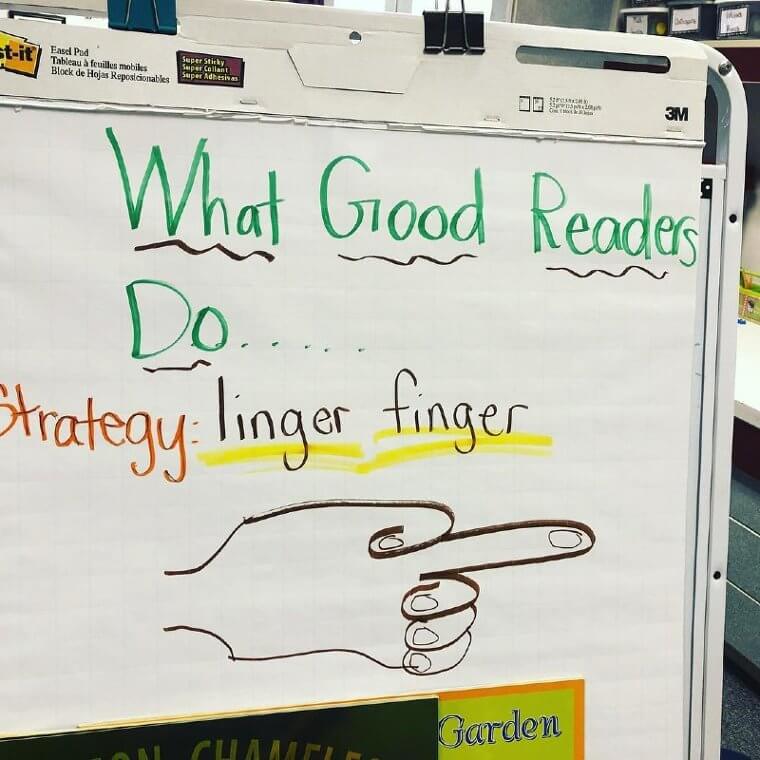 She inadvertently ended up flipping her entire kindergarten class off. Again, we can't help but wonder if she was trying to send a subliminal message! 
Why Lesson Prep Is Paramount
Whether you're teaching in person or online, lesson preparation is vital. Online educator Miss Moore thought she had everything mapped out but received a message from one of her pupils after posting a hyperlink. Students clicked the URL, but instead of being greeted by the link she intended, they were greeted by a shelf and plant pot. Was it a joke? Were they being tested, or had Miss Moore lost her mind?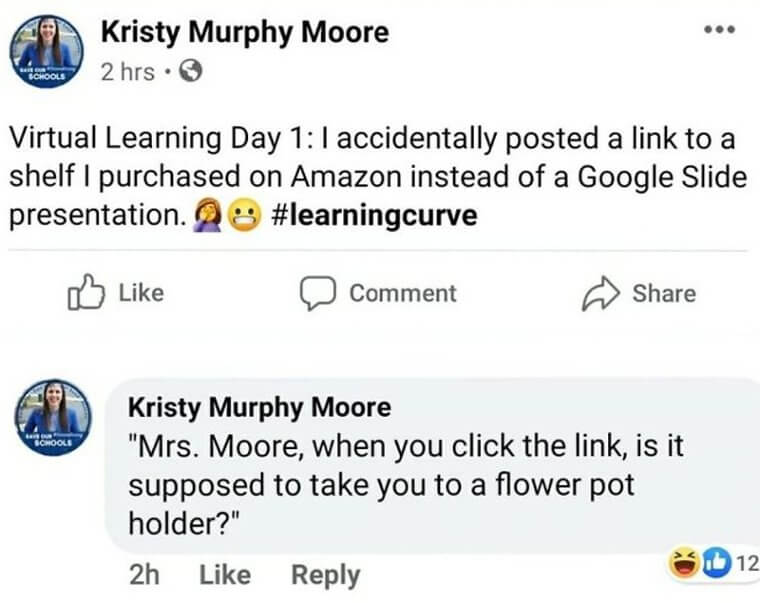 It turns out she had posted a link to her online shopping! She had bought or intended to buy a shelf for her home. It could have been a lot worse; she could have linked to something much less innocent! The moral of the story? Always check your links! 
OMG The Children!
This entry is extraordinary because you can see the teacher realizing their mistake in real-time. At precisely the moment the camera shutter opened and closed, Miss Monica realized she'd dismissed her whole class 15 minutes early. Great for the schoolchildren, but not so good for the parents who wouldn't be there in time to pick them up. And definitely not a good look for the teacher who made the mistake.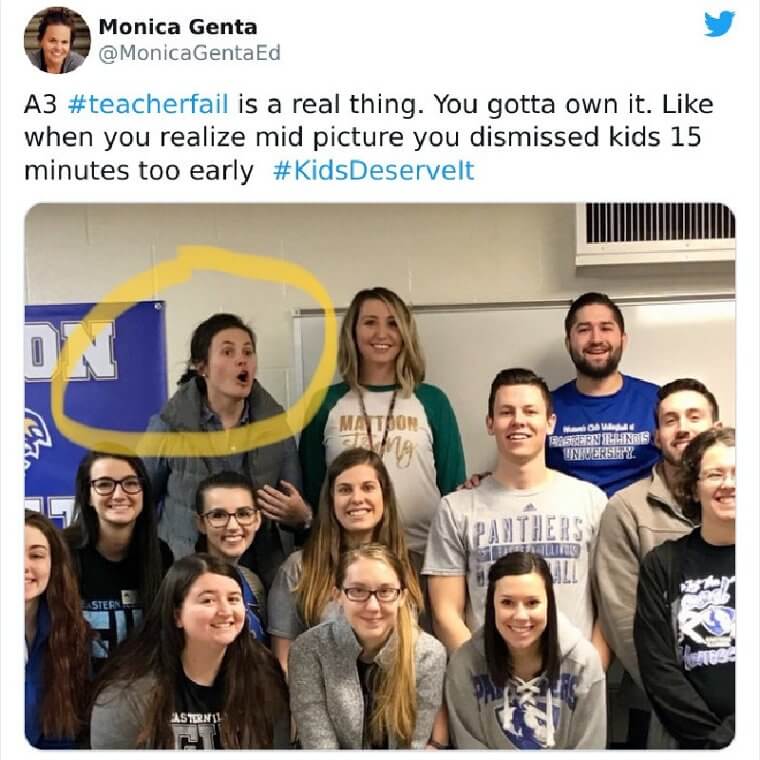 It seems Miss Monica might need to go back to school to learn to tell the time. The little hand is minutes and the big hand is hours!
Pouring Water On Your Parade
When one naughty schoolkid etched something they shouldn't have onto the ground, this brave lady stepped in to help. "I know how to save the day!" She'd surely have proclaimed, but how wrong could she be? Because when she poured water over the offending image, she only succeeded in making the original image ten times more offensive! And next, she did what any sensible educator would do so not to draw attention.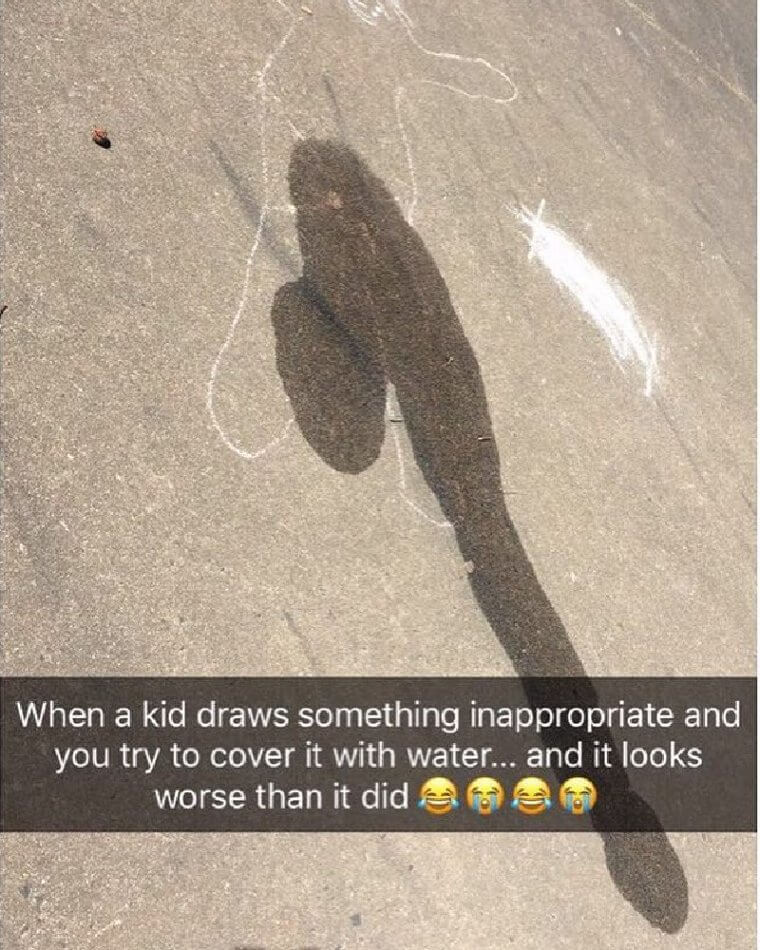 That's right, she immediately grabbed her phone to snap a photo of her new lewd drawing and posted it to Instagram. Hopefully, the next thing she did was pour more water on her parade. 
This Teacher Loves Her Job So Much, She Has A Rip-Roaring Time
Some teachers love their job. Others hate being a faculty member. It's very easy to tell them apart. This teacher obviously loves her job; you can tell from the smile on her face. Plus the fact that she was doing cartwheels with her pupils. But that smile did momentarily disappear when she felt the awful sensation and heard the sound of her jeans being ripped asunder as she was mid-tumble!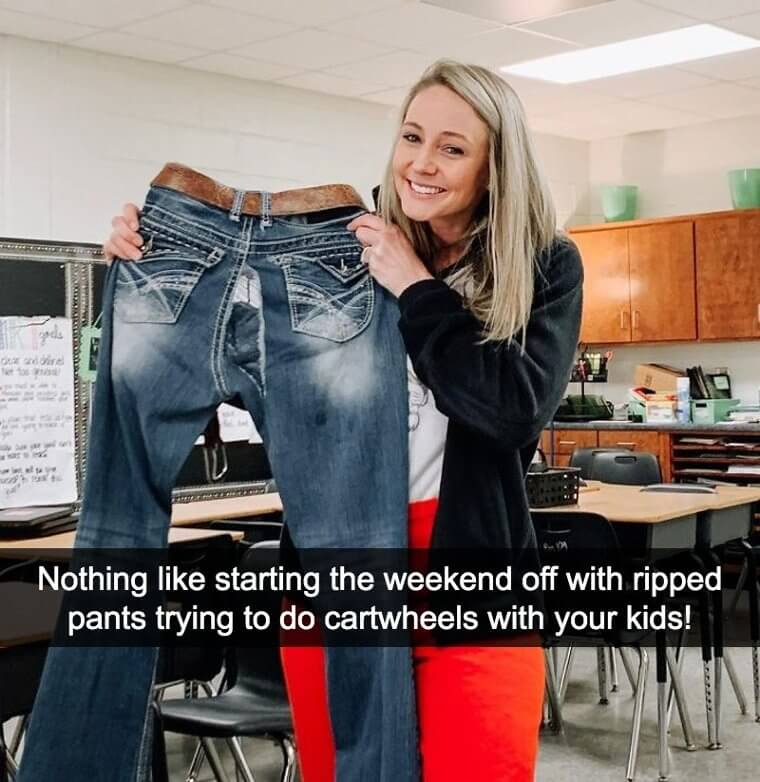 But after a few embarrassing minutes, and presumably, her shuffling out of the classroom with strategically placed hands, she re-emerged in different pants... and with that smile restored! 
There's A Hole In Your Plan, Dear Liza
Miss McDowell ordered some metal buckets to hold the popsicle sticks that her kindergarten class used in their art class. So she went online, found the perfect receptacles and ordered a whole bunch of them. Problem solved, she no doubt thought to herself, before walking upstairs for a well-deserved sleep. But when the buckets arrived a few days later, they were petite, pocket-sized, pitiful, paltry, pee-wee pails. Not even pint-sized!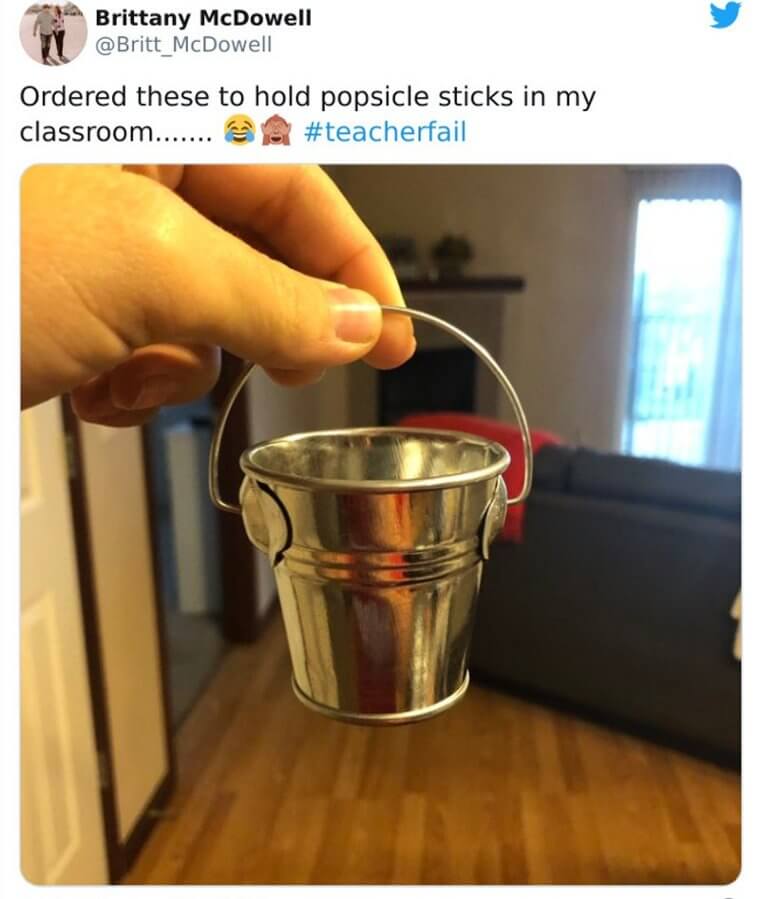 The buckets must have looked bigger on the website, but that's what you get when you don't double-check the measurements. This is exactly what happened to 1980s heavy metal band Spinal Tap when they ordered their model of Stonehenge. Look it up on YouTube; it's comedy gold!